I really enjoyed the feedback on our sprouting post, more how-to posts on their way.
Now I'd like to share a few words on my first love, skin care. Quality beauty items, fancy-exotic ingredient-triple infusion lotions and miracle salves are my specialty. I've had 'problem' skin most of my life and as a result spent a lot of time and money trying to get some relief. To be clear this was the kind of skin no amount of cucumber,celery,berry juice could cure. Recently I've noticed natural and organic skin care lines grabbing my attention, a few of my favorite brands are: Dr. Hauschka, Korres (made in Greece, represent), REN, Juice, Nude... and a new one to add to the list..
Shimmer Organics
, who sent me a more than generous sample of their
Mandarin and Honey Revitalizing Mask
to review here on the blog. The Mask has spoken: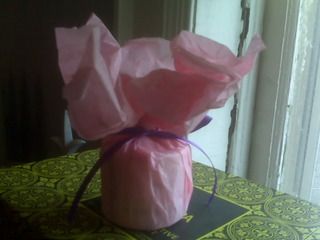 After first use – yes, I have news to report after first use, Natural/Organic products don't necessarily mean passive results; this mask meant serious business from the start. Immediately after application I felt it tighten in on my clogged pores, this is a good feeling. Unlike other clay masks I've tried it wasn't dry or chalky, more like a muddy cream. There are different directions for varying skin types; I'm personally all over the map so I went with the sensitive skin application. After 2-3 minuets I could feel the mask going to work. After 5 minuets the hardened clay didn't easily rinse away, I really had to massage with warm water to get it off.. which made me feel that a true cleansing had taken place. Immediately after drying, my skin was super soft and a little pink from the rubbing, but after a few minuets it was just soft! Super, super soft and really clean feeling. I won't go into more detail since I feel it really takes a few applications to see true results.
From the website:
Mandarin and Honey Revitalizing Mask is absolutely pure - no synthetic chemicals, synthetic colors or synthetic fragrances are added. This organic and raw clay mask is very concentrated and does not contain any water, alcohol, thickeners or emulsifiers.

The pure mineral rich spa quality clay detoxifies, firms, tones, improves skins texture, gently exfoliates, removes surface oil, draws out oil and impurities from within pores, tightens pores, leaves skin very soft and smooth, deep cleanses, purifies, and clarifies. The raw and organic aloe used in this luxurious mask contains amino acids, vitamins and minerals, enzymes, essential fatty acids, is very soothing, anti-inflammatory, healing, moisturizing, and is especially beneficial for sensitive and dry skin. Pure raw and antioxidant rich blend of organic oils have anti-inflammatory properties and are used to soothe, soften, heal and strengthen skin tissue - as they protect your skin from damaging environmental free radicals - keeping your skin youthful and healthy. Raw organic honey hydrates, exfoliates, soothes, nourishes and is antibacterial and contains vitamins, minerals, amino acids, live enzymes and is high in antioxidants. The special blend of organic essential oils used is naturally antibacterial, restorative, smoothing, skin healing, and have anti-inflammatory properties. Using a thin layer under and on the outer corners of your eyes reduces puffiness, dark circles and lines. It's also great as an overnight spot treatment, or anytime spot treatment to heal blemishes. The Mandarin and Honey Revitalizing Mask is very detoxifying and will draw out impurities from within your pores.
Key Ingredients: Pure Clay Minerals, Raw and Organic Aloe Vera, Raw and Organic Antioxidant Rich Oils, Raw and Organic Honey, Organic Blend of Essential Oils
After a week of use – Still reaping the rewards of improved skin texture. I've always had a hard time not using my favorite products daily even if suggested use is 2-3 times a week. This mask is no different, I have been using it as a weekly mask and also as a daily spot treatment because I have spots.. daily. I can't help myself, when something works I want to use is constantly. The mask is drying with out stripping, active with out being irritating.. it's a wonderfully balanced product. I enjoy watching, and feeling, it work, you can really see the mask tighten and harden on the skin, which I enjoy.
I wouldn't recommend this mask for someone with highly sensitive skin, even though I feel I sometimes fall under this category, my skin is used to a lot of abuse and abrasive products. If you do have somewhat sensitive skin, I recommend you err on the side of precaution and fallow the sensitive skin instructions, over 5 minuets and you will notice some pinkness (I call this the color of action). Disclaimer: I have an exfoliation obsession/problem.
Over all review: ****
This product has really been making the rounds on the health and beauty blogs too, and I thank
Lisa
for the generous sample! You can read other glowing reviews here
On the Vegan Family Style blog website
and here at
Healing with Juices
Also be sure to check out Progressive Pioneer's
10 Things to Avoid in Beauty Products